TYLER HANCOCK
Camp Director/Assistant Coach/Hitting Coach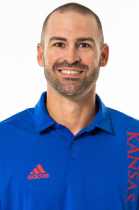 Tyler Hancock joined the Kansas baseball staff as a Volunteer Assistant Coach/Hitting Coach in June 2022. Hancock came to Kansas after two seasons as an Assistant Coach at California Baptist University where he served as the recruiting coordinator and worked with catchers, infielders and outfielders. During his two years at CBU, the program went 76-36 with a 47-19 mark in conference. They also won a share of the 2021 Western Athletic Conference regular season title with a 29-7 league record. 
Fourteen CBU players earned All-WAC honors over the past two seasons under Hancock's tutelage, including Damon Keith being named the WAC Player of the Year in 2021 and Harrison Spohn receiving WAC Defensive Player of the Year in 2022, while also leading the conference in doubles. During Hancock's tenure as hitting coach, the 2022 Lancers led the WAC in batting average, on-base percentage and slugging percentage. The Lancers' batting average ranked third in the nation. 
Before CBU, Hancock was a Volunteer Assistant Coach at Dallas Baptist for one season (2020), an Assistant Coach for three seasons at Southern Illinois-Edwardsville (2017-19), a Volunteer Assistant Coach at Southern Illinois for two seasons (2015-16), an Assistant Coach for one season at Cowley County Community College (2014) and a student coach at Newman University (2013). During the summer of 2015, Hancock also worked on the staff of the Bourne Braves in the Cape Cod League, a team which included 19 players that were drafted by Major League organizations.
A native of Washington, Oklahoma, Hancock earned an associate's degree from Cowley County Community College in 2010 before graduating with a bachelor of arts in sports communication and a minor in pre-law from Newman University in 2013. In 2016, Hancock received a master's of education in sport management from Southwestern Oklahoma State University. Tyler, and his wife, Natalie, have one son, Tucker, and one daughter, Josie.
Hancock's Coaching Career Highlights
19 players selected in the MLB Draft from the Bourne Braves when he served as an assistant coach
Helped California Baptist to a 76-36 record, with a 47-19 mark in conference over two seasons
California Baptist won a share of the 2021 WAC regular season title
Coached the 2021 WAC Player of the Year and 2022 WAC Defensive Player of the Year
California Baptist led the WAC in batting average, on-base percentage and slugging percentage in 2022
14 student-athletes received All-WAC honors, including two outfielders and two catchers
---
WALLY MARCIEL
Assistant Camp Director/Director of Baseball Operations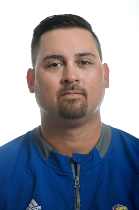 Wally Marciel joined the Kansas staff in August 2014 and finished his eighth season as Director of Baseball Operations in 2022. Marciel is in charge of helping coordinate travel and meals, providing logistical support at games and incorporating analytical technology into student-athletes development. 
With the addition of Trackman, Rapsodo, Edgertronic and other video analysis programs, Marciel has helped provide additional tools to the coaching staff and student-athletes. In addition, he has ushered in virtual reality training and dugout-to-catcher communication during games. Marciel also manages the operations of all Jayhawk baseball camps, facilitating individual and group instruction to help enhance skills for children ages five to 18.
Marciel first came to Kansas in the fall of 2006 from the island of Kailua, Hawaii, as the first of a string of standout Hawaiian baseball players under former head coach Ritch Price.
During his tenure as a left-handed pitcher for Price, Marciel appeared in 79 games from 2007-11, making 25 starts. He pitched 188 1/3 innings, striking out 140 batters en route to holding opponents to a .273 batting average. He finished his career with a record of 15-11, including a win over top-25 opponent No. 19 Baylor (April 2, 2011).
His best season with the Jayhawks came in 2007 when he compiled a career-best 3.94 ERA in 19 games, making 10 starts. He struck out 47 batters in 59 1/3 innings pitched, earning Second Team Freshman All-American honors from Ping! Baseball.
A native of Kailua, Hawaii, Marciel resides in Lawrence, with his wife, the former Molly Green. The couple has one daughter, Ruby.
---
---